Best Uganda Tours & Safaris
Big on drama but somewhat short on infrastructure, Uganda offers a multitude of adventures that are best experienced on an organised tour or safari. Choose from short, intensive gorilla trekking hikes into Bwindi Impenetrable Forest; gorilla and chimp combination adventures that include Bwindi and Kibale National Park; and longer safari tours that focus on savannah wildlife, primates big and small and adventure activities such as white-water rafting on the Nile and mountain trekking.
Tours and safaris in Uganda are not for the faint-hearted however: the roads aren't great, it rains often and driving between destinations can be long and tiring. Uganda's famous gorilla trekking may be on everyone's to-do list but it's a physically demanding experience in tough conditions. However, the experience of meeting a mountain gorilla face to face is truly a moment to be remembered for a lifetime.
Our selection of Uganda tours and safaris include both affordable and luxury options but if you can't find what you're looking for, one of our East Africa Safari Experts will happily tailor-make a trip to suit your needs and budget.
Recommended Kenya Tours & Safari Holidays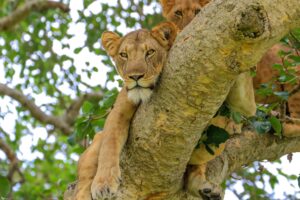 10 DAYS Overview Itinerary Enquire Overview Visit two of Tanzania's largest and most untouched reserves as you enjoy a luxury tented safari in the Nyerere