Best Places to Visit in South Africa
Choosing the best places to visit in South Africa is a bit like selecting which countries to visit on a global tour. Each region is so different, offering a diverse range of experiences, places of interest, and premier South Africa vacation spots. Whether you visit the naturally beautiful city of Cape Town and the bottle-green hills of its wine valleys or head out on a Big 5 safari in the wild Kruger, a South Africa vacation will tick all the right boxes.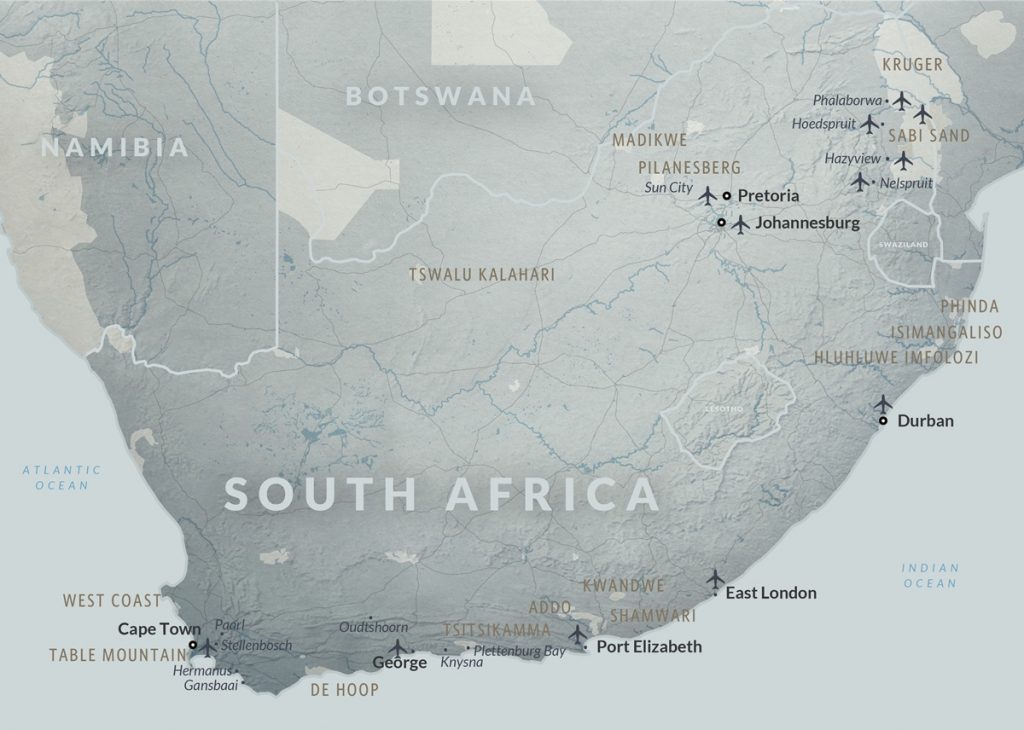 Here are a few of our favourite South Africa vacation spots:
Kruger National Park: A Big 5 Capital
South Africa's biggest and best-known national park is home to the country's greatest diversity of wildlife. As one of the oldest conservation areas in Africa, it boasts healthy populations of wildlife and highly sought-after sightings of cheetah and wild dog. But the Kruger's pièce de résistance is an almost guaranteed encounter with the super-celebrities of the safari circuit: Africa's iconic Big 5. You can expect up-close sightings of elephant, buffalo, rhino, lion and leopard all year round. The Kruger is one of the best South Africa vacation spots and delivers unparalleled safari experiences.
Cape Town: Africa's Most-awarded City
If you're looking for some of the best South Africa vacation ideas, look no further than Cape Town. Consistently voted as one of the top vacation spots in the world for families, couples and solo travellers, Cape Town is one of the best places to visit in South Africa. The 'Mother City' boasts spectacular natural beauty, superb accommodation and fantastic weather year-round – and some of the best beaches in the world! The city's acclaimed food and wine experiences are as alluring as its iconic landmark: Table Mountain, one of the 7 Natural Wonders of the World. And for some of the best land-based whale watching on the planet, head for the Whale Coast during whale season.
Cape Winelands: South Africa's Culinary Heart
The beauty of the Cape Winelands' green valleys ensconced by craggy mountains is as much of a treat for the eyes as its cuisine is a treat for the palate. Sip, swirl and sample award-winning wines, indulge in gourmet farm-to-table cuisine or wander down oak-lined streets to local art galleries with this stunning scenery as your backdrop. Although only an hour's drive from Cape Town, a night or two in this peaceful patchwork of vineyards and mountains will dissolve any lingering city stress. It really is one of the prettiest places to visit in South Africa.
Garden Route: Africa's Most Gorgeous Coastline
A firm favourite when it comes to South Africa vacation ideas for families, the world-famous Garden Route is a beautiful length of coastline that stretches from a couple of hours outside Cape Town to just after the seaside town of Plettenberg Bay. The ideal way to explore all the Garden Route's sandy beaches, rocky shores, quaint towns and indigenous forests is to rent a car and drive yourself – although charter flights are available between destinations, if you don't have the luxury of time. Don't miss the picturesque town of Knysna, famous for its fresh oysters and sunset boat cruises.
Madikwe Game Reserve: South Africa's Best-kept Secret
About a five-hour drive, or short charter flight, from Johannesburg lies one of South Africa's least known game reserves: Madikwe. Its Kalahari grasslands and woodlands are surprisingly full of animals, a haven for the Big 5 and endangered wild dog. Unique desert specialists like brown hyena and the rare aardwolf also thrive here. Madikwe offers fantastic family-friendly South Africa vacation ideas, incredible game viewing and exquisite safari lodges. A selection of romantic retreats and honeymoon suites also make it a great choice for couples.
Eastern Cape: A Family Favourite
The Eastern Cape is hard to beat when it comes to exciting and stress-free Big 5 safaris for the whole family. The region offers a combination of child-friendly lodges in malaria-free reserves, all within driving distance of the Garden Route's finish line or Port Elizabeth International Airport. But it's not just families who get to have all the fun in the Eastern Cape – the area's parks and reserves also have a handful of secluded, luxurious lodges that are among our favourite places to visit in South Africa for romantic safaris.
KwaZulu-Natal: Big 5, Beaches & Historic Battlefields
It's often said that locals know best. When South Africans go on a vacation, their favourite choice is often KwaZulu-Natal (KZN). From the broad beaches of its sunny subtropical coast to historic battlefields among soaring mountain peaks and beautiful Big 5 game reserves, KZN has some of the best South Africa vacation spots for bush and beach combinations.
Johannesburg: Place of Gold
In the past, visitors to South Africa whizzed through Johannesburg, stopping just long enough to catch their connecting flight. Nowadays, however, Johannesburg (or Jozi as it's known to locals) is one of the most exciting places to visit in South Africa. Boasting a fantastic selection of hotels and guest houses, a thriving café culture, budding restaurant scene and thrumming night life, Jozi offers its visitors a unique perspective of urban South Africa. Catch the ultra-modern Gautrain straight from the airport to the heart of Sandton; its shining shopping centres are filled with high-end boutiques. For greater insight into South Africa's recent past, we recommend a visit to the Apartheid Museum. It's a highly informative and moving experience.
Sun City: Africa's Premier Holiday Resort
About three hours from Johannesburg lies Sun City, South Africa's undisputed 'Kingdom of Pleasure'. This is one of the top South Africa vacation spots if you're looking for true escapism and non-stop entertainment. There are championship golf courses and world-class casinos, slide-filled water theme parks plus nightclubs, shops and restaurants. They've even built their own beach! And if that's not enough, Sun City is right next to the Pilanesberg National Park, where you can go on a Big 5 safari.
Pilanesberg National Park: Sun City's Big 5 Neighbour
Set within the crater of an ancient volcano and centred around a large hippo- and croc-filled lake, the Pilanesberg National Park is one of the best places to visit in South Africa if you don't want to travel far from Johannesburg to enjoy a fantastic safari experience. Although conveniently close to Sun City, these two top destinations feel worlds apart. Some visitors choose to stay in Sun City and pop across for a half-day safari, but with such great Big 5 game viewing on offer – plus a wide selection of excellent safari lodges – we recommend a night or two in this beautiful piece of African wilderness.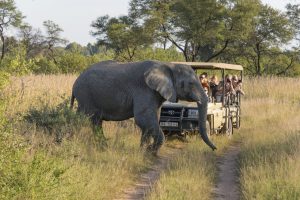 Africa Destinations
South Africa View photo Why go Where to go When to go Travel advice Tours & safaris Accomodations Travel articles Enquire South Africa Safaris From